Dear Readers,
A PENNY FOR YOUR WISH, the third and last installment of the AVERAGE ANGEL series is out now!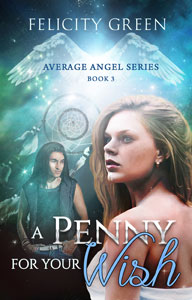 On a Penacook heritage site in New Hampshire, there had once been a magical spring. In his human life, the angel Zachriel had already known its magic—the spring had decided the fate of his evil twin brother, Mal.
Later, it became a wishing well with a tempting promise: throw in a special penny, and your wish will come true. Just like that.
Sounds too good to be true? It is. The penny you give isn't the price you pay. The price is your soul, which you sell to the devil.
Eighteen years ago, a woman threw a penny into the magical well because she desperately wished for a child. Now her soul is imprisoned in the underworld, where she has to serve Lucifer for eternity.
Only her own flesh and blood can save her.
The child she wished for, the reborn angel, the girl in the prophecy, is destined to save all of mankind in the final battle between good and evil.
Stella.
A PENNY FOR YOUR WISH is now available on Amazon for 2.99 or free with Kindle Unlimited!
WISH UPON A FALLEN STAR and WISH FOR SANTA, the first two books, are also available as ebooks on Amazon and free with Kindle Unlimited.
Watch the AVERAGE ANGEL trailer: 
Thanks for reading,
Felicity
Sign up for my newsletter so you won't miss the releases!