AVERAGE ANGEL 
An average teen – a supernatural task 
New series of urban fantasy ebook novellas
Watch the trailer:
WISH UPON A FALLEN STAR out now!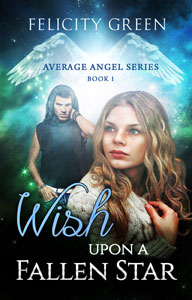 Stella Martens is a fallen angel.
Stella's former angel self Vitrella came here as a shooting star and was reborn as a human baby with no memory of her angel existence. A clean slate.
Pity that Stella could really benefit from recalling what in heaven possessed Vitrella to voluntarily exchange her immortal magic angeldom for a life as an average teen girl in a very average town—Average, New Hampshire.
She learns the truth when a sexy supernatural being breaks angel code and tells unsuspecting Stella about her celestial alter ego along with the news that Stella has to fulfill Vitrella's wish-granting quota. Turns out, it was Vitrella's job to fulfill wishes, and angels have to meet their job expectations or else face dire consequences. Easy for Vitrella, who had an angel's grace, but how is Stella supposed to manage being an ordinary human girl without superpowers?
Free with KindleUnlimited!
---
WISH FOR SANTA out now!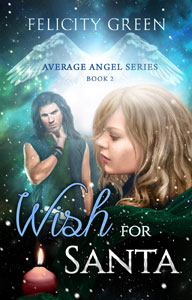 When Stella Martens meets a little boy whose greatest wish it is to spend Christmas with his father, she just knows she has to help him.
After all, since learning she is a reborn wish-granting angel named Vitrella, Stella has made wish-fulfilling her vocation. Without any magic angel superpowers at her disposal Stella had to make do with whatever an ordinary human teenager would come up with. Until now.
Stella had a recurring dream about this boy.
What looks like a simple and straight forward wish Stella feels called upon to fulfill soon turns her world upside down. Zack, cute angel of apocalypse, who had pressured her into taking on Vitrella's wish quota in the first place, downright forbids her to take this one on. But Stella has to stick with a wish she has committed to in order to protect herself and her family from evil.
So Stella goes rogue … and in an irony of fate calls forth the demon she has been trying to keep at bay.
WISH FOR SANTA is also available on Amazon and free with KindleUnlimited
---
A PENNY FOR YOUR WISH out in May 2017